Iberian presa ibérica and lomito ibérico - Tested and more than approved
Dry, tartar, tataki, grilled, carpaccio... this exquisite piece can be tasted in many different forms and in many recipes, from raw to well roasted. This is probably the only piece of pork that we can eat as tartar, seasoned as with a traditional beef steak (with, of course, chips and salad). Once dried and cured, in the form of a sausage, it can easily be incorporated into the best acorn ham dishes.
The Iberian presa is a rare piece in the butcher's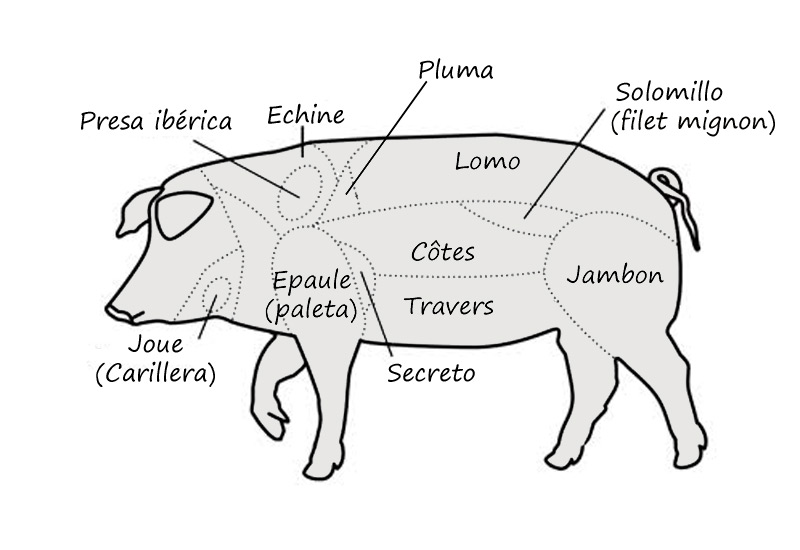 This piece of meat is located at the top of the tenderloin, next to the paleta, and is much appreciated among meat eaters. It is a piece, little known outside the Iberian peninsula, which can only be found in Iberian pigs raised in the dehesa. One of its peculiarities is based on the permeation of fat inside the muscle itself which gives it a very tender texture and an unmistakable flavor.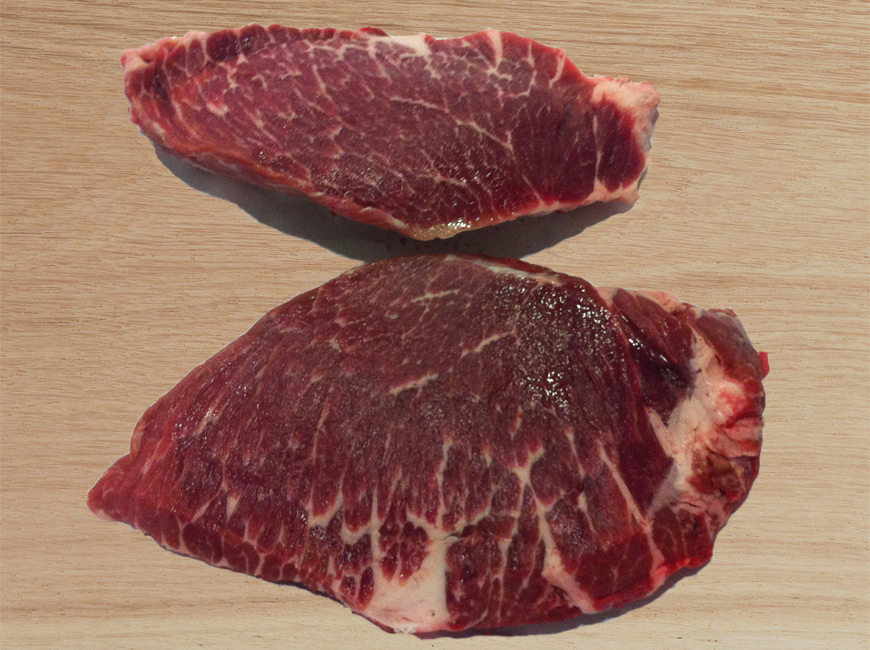 The piece is red, which is uncommon for pork. It could be confused with beef when raw and once roasted it looks like grilled magret duck. Its weight ranges from 600 grams to one kilo, depending on the total weight of the animal. Various methods and recipes allow you to discover all its flavours. TAPAS shop has a weakness for grilling which seals the meat, leaving it with a crust on the surface but pink and juicy inside. In Andalusia, it is often accompanied mojo picón, a sauce originally from the Canary Islands. Unlike other porcine races, Iberian black meat is veined with intramuscular fat, which is rich in Omega-3 fatty acids and decreases cholesterol. Along with the Iberian pluma, the fillet and the sirloin, the presa is a very tasty cut with touches of acorn and hazelnut.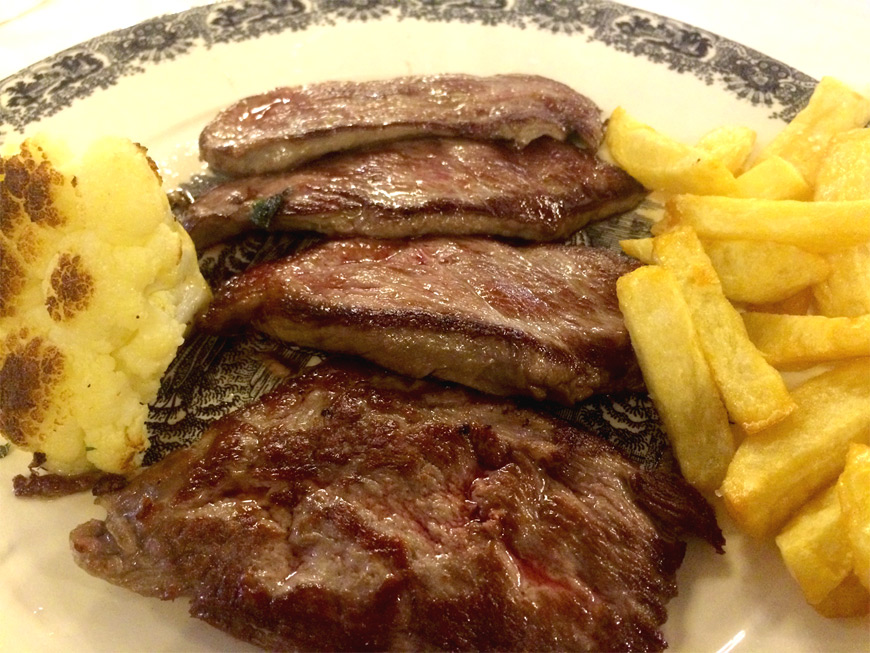 It should be noted that this meat can only be found fresh from November to late February-early March (depending on the year), during the months of slaughter. The rest of the year, it is sold frozen or vacuum packed. Although it makes up only 10% of the total production in Spain, try to buy an Iberian acorn presa. The meat will come from free-range pigs fed with acorns (from September to March).
The Iberian lomito, an essential for any cured meat platter
A little different from dried ham, because it is cured and dried for about 90 days after being seasoned, the Acorn-Fed lomito Ibérico has a reddish color with burgundy and garnet tones.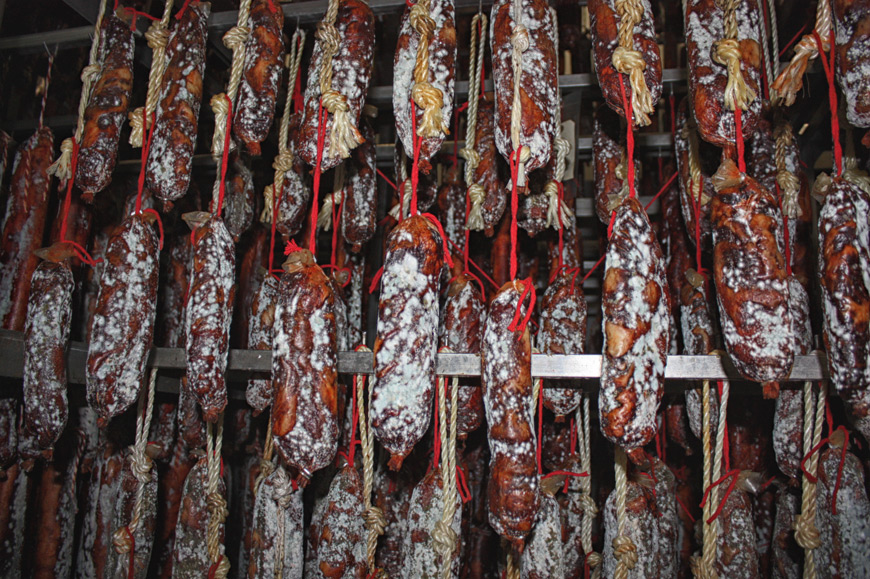 During the drying-ageing process, the meat loses a large part of its fat, leaving the meat dry but permeated with fat. Salt, pepper and paprika are almost always added before being stuffed into gut casings, but like the lomo ibérico, each pork butcher can bring his personal touch: garlic, and other spices. Once dry, about 90 days after preparation, its weight has almost been reduced by two, and is then between 350 and 500 grams. Beyond this weight, the lomito may be fat. It is preferable to eat the tenderloin in very thin slices at room temperature. Purists recommend cutting it with a knife instead of with a machine, as the blade spinning at high speeds generates some heat that could alter the flavor.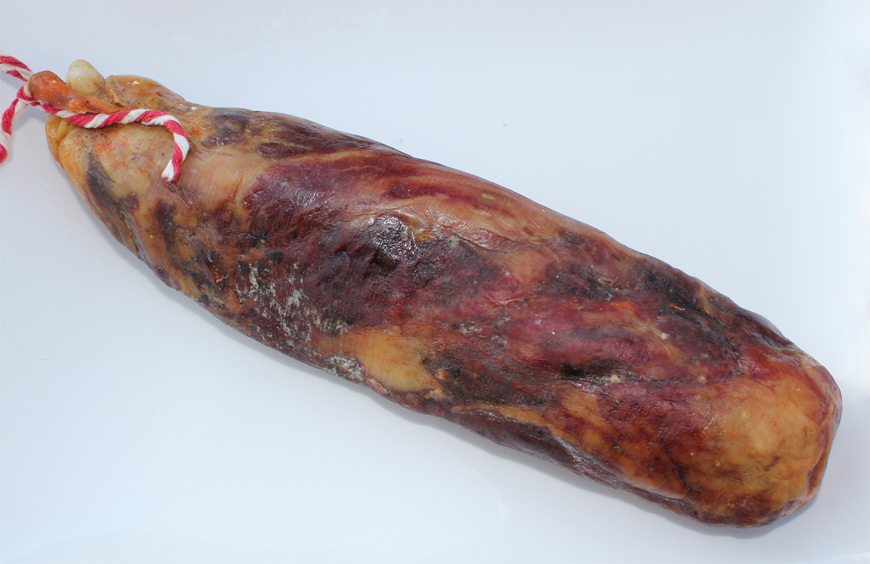 The Iberian lomito is prepared in all denominations of origin for Spanish cured meats : Jabugo, Guijuelo, Dehesa de Extremadura and los Pedroches. And each area has its particularities, such as the type of casing, the ingredients of the seasoning (paprika in Extremadura, for example), the provenance of salt (Bay of Cadiz in the case of our manufacturers), temps d'affinage…
How to taste and savour the lomito
Iberian lomito, as mentioned above, is a cut little known to anyone but aficionados, but nevertheless with a very refined flavour. Therefore, as in the case of the loin, it is important to taste it delicately, already cut into fine slices, without any additives that would mask the flavor (like oil, butter or cheese for example). An exception to this rule is a little bread during tasting, to cleanse the palate. It is also possible to choose some wines to accompany this tasting. For more information, read the Aroma encounters - Wine and Ham.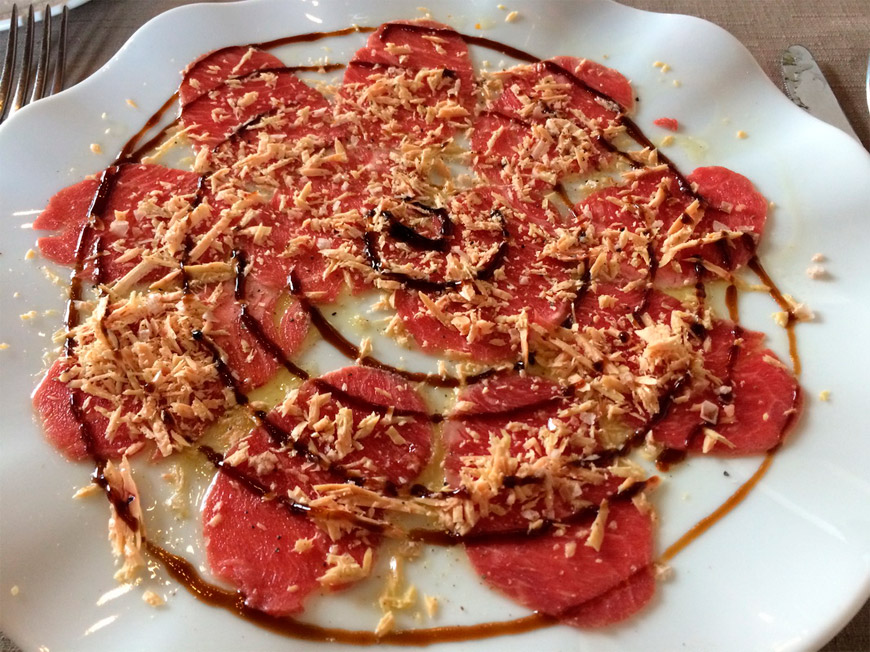 Alone, among friends, or with family, the Iberian pork is a pleasure that everyone can enjoy in their own personal way. The iberian presa is one of the gastronomic secrets hidden in the Iberian pig, but once you taste it, everyone always wants to try it again! Whether eating it dry, raw, or roasted, it reveals a great wealth of flavours for foodies to discover and appreciate, as equal to the jamón de bellota or the paleta.
Continue the tasting:
Commenter
Répondre
Vous devez être
connecté
pour laisser un commentaire.