Finca Montefrío
Located in Sierra de Aracena, near Jabugo, this Organic farm is led out by a couple of passionate people. A small production with high quality products, organic cataloged with the Bio certificate, this being very exclusive in the region. Their sausages are made from 100% Iberian pigs, Silvela breed.
On several hectares have everything they need to feed their herds: pigs and goats, living in ideal conditions for the animals This is a real and unique ecosystem that allows to obtain the sausages, all of them controlled and certified by the regulatory authorities by Spain in Organic Products.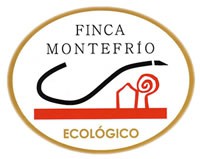 To find out more, read our article: an organic farm located in the heart of Sierra de Aracena
Organic Ham certified from Finca Montefrío, near Jabugo. Iberian ham pure 100% breed. Excellent organic ham from Jabugo denomination.