About 90% of the pigs bred and consumed in Spain are "white pigs", which are also very common in France. Only 10% are Iberian pigs, raised in total freedom in oak meadows. Most Spanish products sold abroad are made from white pigs, particularly serrano hams.
Serrano only means of the Sierra (the mountain)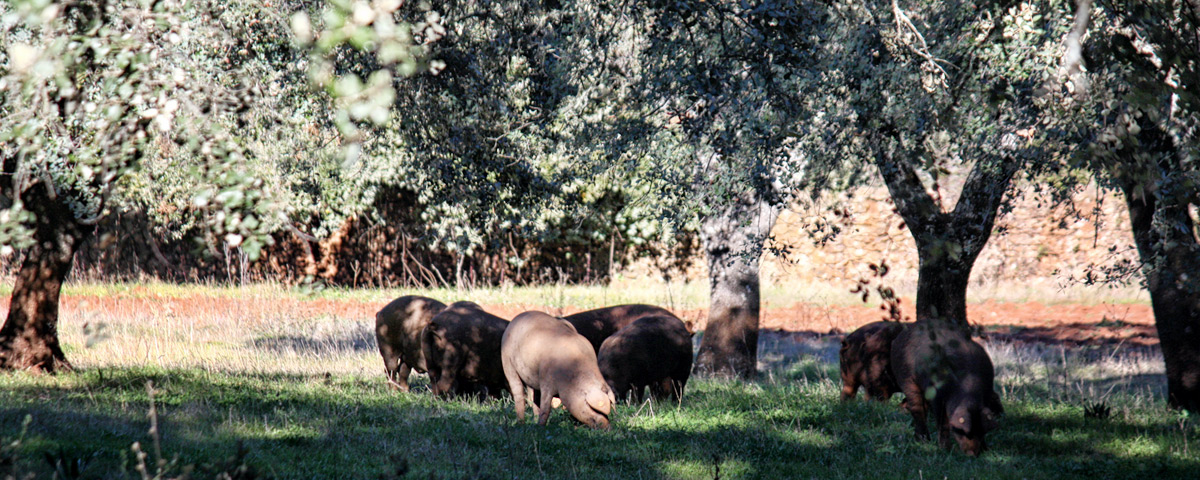 There are two large indigenous pig populations in Spain that have different origins and different habitats.
There is the Iberian pig, whose natural habitat and food differ completely from the other population, since it lives in immense areas of Mediterranean forests, with high pastures - the "dehesa", rich in holm and cork oaks. The Iberian pig is a unique and privileged breed who is found today in very specific areas: the western and southwestern regions of the Iberian peninsula and Portuguese regions bordering the Spanish border (Algarve and Alentejo). The main physical characteristics of this animal are its long and thin legs, sharp snout, dark coat and the famous black hoof that gives its nickname: Pata Negra.
The genetic specificity that defines the Iberian species is the ability to store large amounts of lipids that infiltrate their muscle mass, which creates white veins and gives the meat its incomparable texture and smoothness.
The other large population is the Celtic pigs located in the northeast of Spain in the Atlantic forests and areas with a mild climate. Over time, this group has given rise to what is commonly called the "white pig". These animals are raised in sties, fed fodder and cereals and do not move much.
Serrano ham comes from these pigs. Its quality is determined by the castration of the animal, its weight and the total fat content. The curing process for serrano hams follows the same method as for Iberian hams with some differences (such as the drying time).
These hams are high-quality gastronomic products, which are praised both for their geographic location and breed, and their flavour and aroma.
See also: