From a mixture of different varieties of olives (Picudo, Picual and Hojiblanca). 0.5 litre glass bottle. This oil contains all the nuances to be found in the 3 varieties of olive from the Suerte Alta certified organic olive grove.
A complex olive oil, pressed from the fruit of the centuries-old olive trees from the finca Cortijo de Suerte Alta.
Three varieties of olives, characteristic of the Baena area, form this oil: Picudo, Picual and Hojiblanca.
The first impression on the palate, provided by the Picudo olive, is sweet. The Picual olive brings a delicate bitterness. Finally, the Hojiblanca variety leaves a light spiciness to the mouth and in the back of the throat.
The combinaison of the three offers a unique gourmet experience.
This Extra Virgin Organic Olive Oil has been awarded the Extragold BIOL 2018 Award.
#AlimentosdEspaña prize
Each year, the Spanish Ministry of Agriculture, Fisheries and Food awards the Spanish Food Prize to their Best Extra Virgin Olive Oils.
In 2020, Cortijo de Suerte Alta won the prize in the "Fruity / Green / Bitter" category. Likewise, obtaining the best mark in the organoleptic evaluation during the blind tasting of 55 Spanish olive oils, the special prize was awarded to this olive oil from Albendín-Baena (Cordoba).
>> See the press release of the Spanish Ministry of Agriculture, Fisheries and Food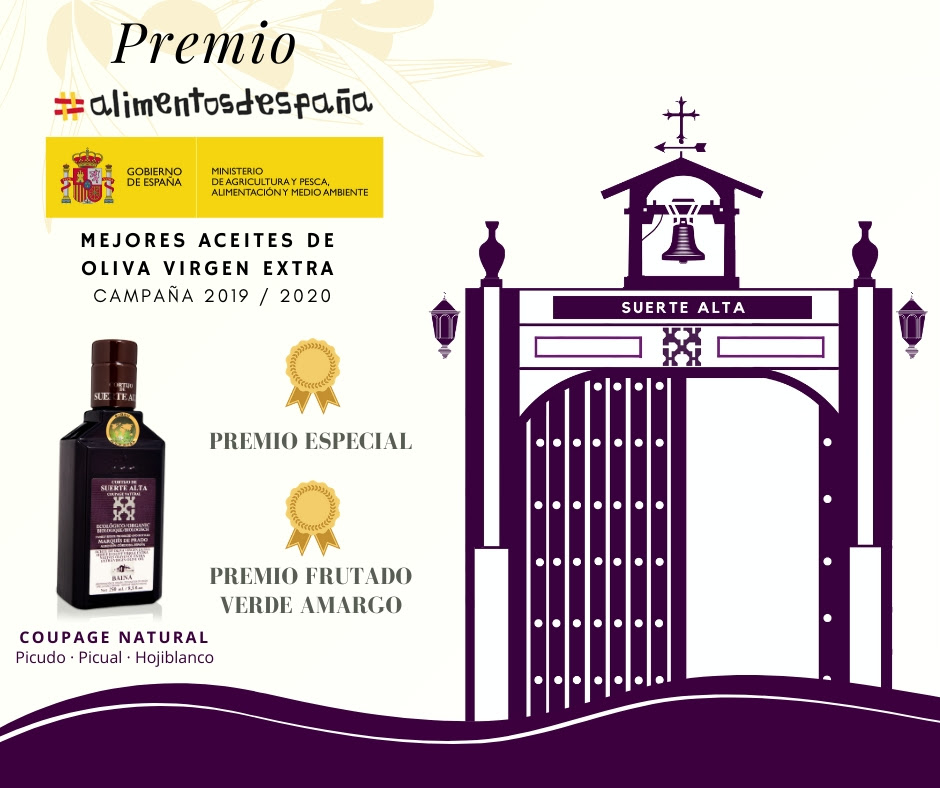 Data sheet
Appellation of origin

Baena (Córdoba)
Type of olive oil

Coupage
Olive variety

Picudo, Picual et Hojiblanca
Conditioning

Bouteille en verre
Quantity

500 ml